22 Heritage Road, Kingsville, ON (519)733-4545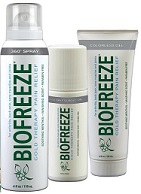 Now available in colorless 3 oz Roll-on, 4 oz Gel, or 4 oz 360°Spray
Features
Applies easier and penetrates quickly
Enhanced and more natural formula
Colorless (dye-free) options
Proprietary herbal blend
100% paraben-free
Propylene glycol-free
Effective skin conditioners
Greaseless and non-staining with vanishing scent
Manufactured in the USA
Not tested on animals

Biofreeze 360° Spray delivers the #1 clinically recommended topical analgesic using the best spray technology on the market today—it works from any angle, even upside down.

It's often difficult for back pain sufferers and arthritic patients to get an even application of Biofreeze where they need it most. The 360˚ Spray makes applying Biofreeze much easier.

Like all Biofreeze products, the Biofreeze 360˚ Spray is paraben-free, propylene glycol free and includes a proprietary herbal blend. Biofreeze 360˚ Spray is colorless, uses 10% menthol and is available in a 4 fluid ounce size.