22 Heritage Road, Kingsville, ON (519)733-4545
Why choose Massage Therapy?
Massage therapy helps in many ways, primarily it helps the body to release stress. When a person experiences a stress the body naturally releases hormones (Cortisol) which activate the bodies 'fight or flight response'. This hormone causes the blood to be deverted to the muscles and over repeated stresses the muscle become hypertonic. Massage brings the body back into balance by promoting good tissue health, decreasing the muscles reflex activity, and inhibiting motor neuron firing.
Massage therapy is an effective tool in treating any type of injury; sports, work related or motor vehicle accidents. It is also beneficial for treating many pathologies including arthritis, gastro-intestinal, COPD and neurological conditions.
As well as the treatment of injuries and pathologies, massage is also very effective in promoting relaxation and well-being.
John Jones B.H.K., R.M.T.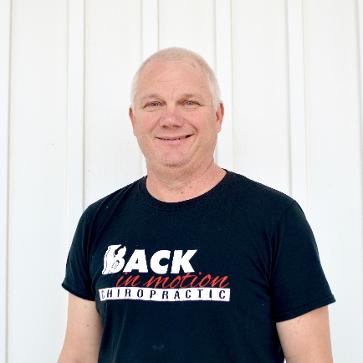 About John Jones B.H.K., RMT:
John is a lifelong resident of Kingsville. He attended Kingsville Public and Kingsville High School. In 1991 he graduated from the University of Windsor with a bachelor's degree in Human Kinetics majoring in Teaching and Coaching. John spent one year as personal trainer before returning to school to pursue a career in health care.
John worked for several years as a Personal Support Worker at the Sun Parlor Nursing Home in Leamington. In 1997 John returned to school to become a Registered Massage therapist, a career he has been at for the past 18 years.
John is an active father of 2 children, and a devoted husband of 20+ years. John is an avid outdoorsman who has spent many years as a leader for Scouts Canada. John also spent 14 years learning and teaching Goju Ryu Karate where he earned a 3rd degree black belt.
John is also a first aid/CPR and AED instructor through Worksmart Safety.
John joined the Back In Motion Chiropractic when it opened January 1, 2013.
Currently John takes appointments for Mondays-Thursdays