22 Heritage Road, Kingsville, ON (519)733-4545
We are happy to announce that we are now able to
provide Acupuncture to our patients.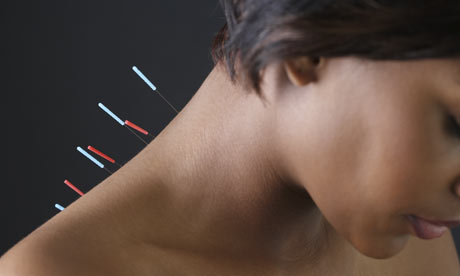 Many Chiropractors use acupuncture as an adjunct to treatment, along with other techniques, to treat and prevent injuries, relieve muscle and joint pain, and to treat symptoms associated with chronic ailments.
Using Acupuncture has been around for centuries and involves using small, fine needles and inserting them into various loci on the body (depending on the condition). Sometimes additional electrical stimulation is used to in an effort to reduce pain in the area.
Dr. Ryan has had great success with acupuncture in the treatment of muscle pain and chronic and acute injuries and looks forward to using this technique at our office!
Acupuncture is indicated:

- for the treatment of acute and chronic injuries
- for the relief of muscle pain and trigger points ("knots")
- to reduce inflammation
- to relax muscles
- to promote healing
- to reduce pain
What to expect?
Acupuncture is a relatively painless procedure lasting up to 15 minutes. Needles are one-time use and sterile.
Will Acupuncture work for you?
Schedule an appointment with Dr. Ryan to discuss a treatment plan involving acupuncture.
Dr. Ryan Hawkins is a chiropractor that is licenced as a contemporary acupuncture provider. His current office hours include Wednesday afternoons from 1:30-5:00pm.
Call to schedule your appointment with Dr. Ryan.